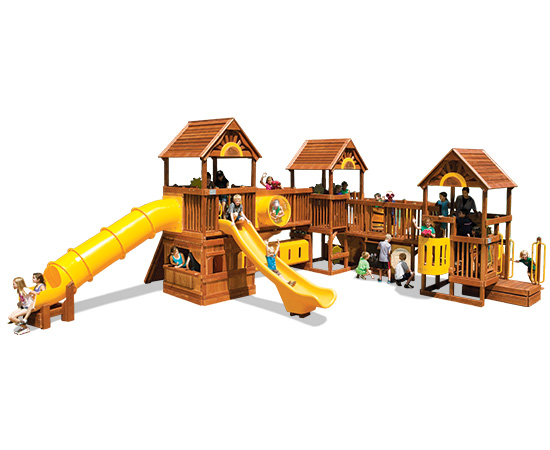 A Rainbow Swing Set is what gets your kids outdoors and active. No TV or electronics. No couch potatoes! Just fresh air, exercise, fun, and memories they'll remember for the rest of their lives.
Rainbow Play Systems
Swing Sets are so much more than just playground equipment for your kids to swing, slide, and climb on.
Some websites also offer customer supportThis is when taking little essay helper break missions will help.
for their writers after you have hired them.
It's a place for falling and learning; for games of Tag and King of the Castle. It's home to their secret club; a rocket trip to the moon; a ship sailing the seven seas.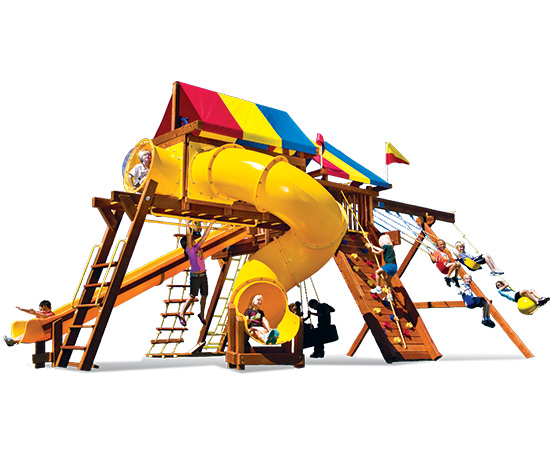 Shop Now!
Browse our online store to find the perfect playset for your kids!
7 Reasons Why You'll Love Rainbow Swing Sets
TRUSTED NAME BRAND
The sturdiest free standing playsets in the world. Engineered safe and built to last. Kids will wear out their toys fast.  That's why we make Rainbow Swing Sets tough. You can trust that your Rainbow is made with premium 100% Cedar materials that are durable, sturdy, and long-lasting. With commercial-grade hardware, our swing sets are the toughest and most trusted in the world.
SAFE & STURDY
Rainbow's interlocking notched big beam construction is held together with recessed hardware and safety caps, eliminating hazards. Because Rainbow uses only commercial grade hardware, Rainbow Swing Sets have virtually no weight limits. With your kid's safety our #1 priority – lightweight, wobbly swing sets simply don't cut it. Explore our unmatched safety features that can support the weight of a neighborhood of kids.
PROFESSIONAL INSTALLATION
A big box of countless parts and hardware is overwhelming. Our fully trained staff can professionally install your Rainbow Swing Set in just one day.  Let the experts make the process easy, and save money by avoiding improper assembly.
LIFETIME WARRANTY
Your Rainbow Swing Set is a valuable one-time investment. Our playsets are truly designed to last a lifetime. That's why we back our products up with the best, exclusive lifetime warranty coverage in the industry.
LONG LASTING
Because Rainbow Swing Sets are made of premium 100% Cedar and undergo our exclusive 10-step water seal process, they won't split, warp, or shrink – holding up better in hot summers and harsh winters.
EXPANDABLE
The swing set needs of your family will change over time. Because they're modular, Rainbow Swing Sets can grow with them, allowing you to add and expand onto your swing set so your kids never lose interest and continue to be challenged and develop as they age.  Monkey bars, second fort area, additional slides to the rescue!
ADAPTABLE TO ANY YARD
We understand every backyard is unique.  Rainbow swing sets are designed with options to customize and adapt to any backyard.  Our Castle models are great for un-level yard solutions.  Our clubhouses great for your small backyard.  Ask us about our free site visits!
LET US HELP YOU CHOOSE THE PERFECT SWING SET OR TRAMPOLINE FOR YOUR BACKYARD FUN!